Altfest News
Karen Altfest Recognized by Forbes on its 2017 list of "America's Top Women Wealth Advisors"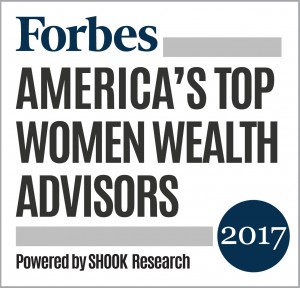 On Forbes' inaugural list of "America's Top Women Advisors", Karen C. Altfest, Ph.D., CFP®, ranked #17 out of 200 female advisors.  As one of the few independent firms represented, we're proud to have Karen listed.
Karen has made it her mission to make her clients, specifically  women, feel comfortable with their finances through education. Forbes notes Karen's hand-on approach to financial planning in this feature article: Why Financial Advisor Karen Altfest Loves Volatility And Brexit.
The ranking methodology for this list includes a focus on experience and best practices and we believe our emphasis on being a client-focused, fee-only  firm makes a difference.
*The Forbes ranking of America's Top Women Wealth Advisors, developed by SHOOK Research, is based on an algorithm of qualitative and quantitative data, rating thousands of wealth advisors with a minimum of seven years of experience and weighing factors like revenue trends, assets under management, compliance records, industry experience and best practices learned through telephone and in-person interviews. Portfolio performance is not a criteria due to varying client objectives and lack of audited data. Neither Forbes or SHOOK receive a fee in exchange for rankings. Additional details regarding the criteria and process utilized in formulating these rankings can be found here.