Altfest Insights
The Upside of Downsizing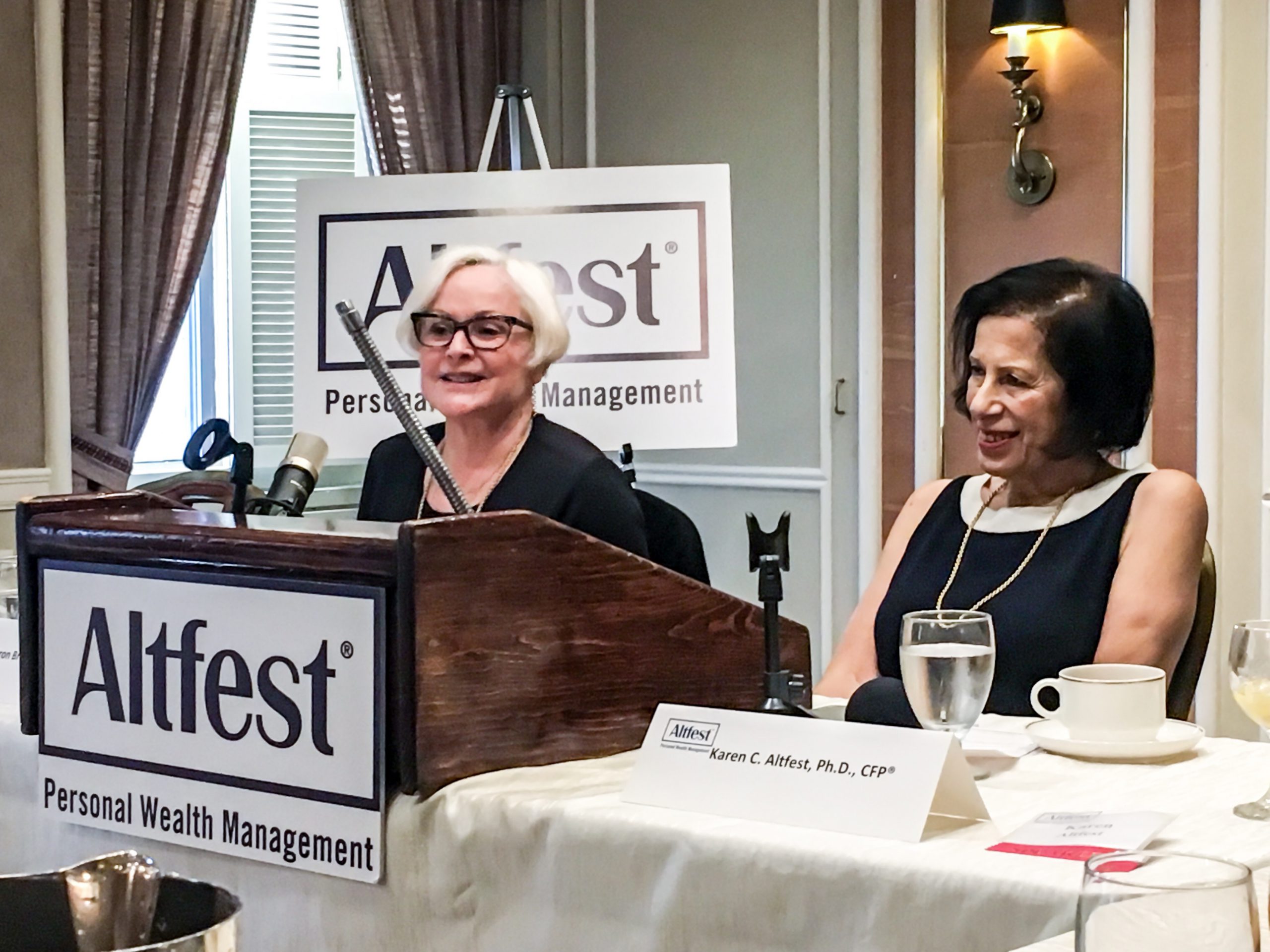 On October 3, 2018, Sharon Bregman, MA, Founder of Déménager, which helps people with residential moves, spoke to 30 people at Altfest's Loss of a Loved One event. Karen Altfest, PhD, CFP®, interviewed her about making good decisions when moving on.
Karen C. Altfest, PhD, CFP® (KCA): How did you get interested in helping people move?
Sharon Bregman, MA (SB): In 2003, my mother lost her husband. She lived in Florida and was in her early 80's. Although she was healthy and active, she had difficulty seeing when she drove at night. She began to feel very isolated and alone. I suggested that she move to one of the luxury independent living places. She had several friends at such a place in Turnberry Isle. Although she resisted for a while, one day she just decided to take the plunge and she bought into what was then a "Five Stars Residence". In 2005, my mother passed away. While waiting in the airport for my return flight home after having emptied my mother's large 3 bedroom apartment I had an epiphany – why not help people over the hurdles of moving/downsizing/emptying homes etc. I had a lot of experience in those areas. The transition to what I do now evolved from life experience.
(KCA): Is there one move that stands out?
(SB): The one that stands out is actually a widower. Harvey lost his wife when he was 82. His attorney told me Harvey needed to move out of his large home. Harvey barked at me and said he was not ready. He told me to call him back in 6 months. I did and he barked again and told me to call in another 6 months. Shortly after the third call, Harvey called me. He was ready to move. When we met, Harvey explained that he had tripped on the 2 exterior steps leading into the kitchen and he could not stand up. He used his cell phone to call for help. Harvey realized that living alone was no longer a good idea. Harvey was a very successful, self-made man. He adored his wife. They had a wonderful life and did a lot of serious entertaining. Harvey had all of his intellectual faculties but he had difficulty walking and hearing. He made all of the decisions as to what to take, how to get rid of the rest, where he wanted to live and how he wanted to live. Harvey had already dealt with all of his late wife's clothing. The day the mover came to pack all of the china, crystal, and silver Harvey left for an important appointment (or so he said). When he returned, all of the boxes were lined up against a wall and Harvey went over and stroked one and said "goodbye Doris". The entire room burst into tears and Harvey finally smiled and had closure. I will never forget that moment.
(KCA): Do you offer ideas on what people should take with them, or do you take your cues from the people themselves?
(SB): This is an excellent question. The answer is some of each depending upon the person and the situation. I have had clients who want to leave everything behind. One client only wanted to take her bed and some things from the kitchen. I strongly suggested that she take one of 3 sofas, the smaller coffee table, certain chairs, and 2 of the end tables. What we moved worked perfectly.
At the other end of the spectrum, I had a client who was moving from a large home with a lot of closets to a 2 bedroom apartment. We selected appropriate furniture and together we spent weeks culling clothing and kitchen contents. There was enough stuff for 2 apartments and try as I may, she was not willing to eliminate duplicates and even triplicates. She moved 2 full trucks. When faced with unpacking, she picked the nicest and newest and easily eliminated the rest.
(KCA): How much does lifestyle impact the choices?
(SB): For some people, lifestyle is something that they cannot let go of; and for others, change is an exciting new adventure. I still cannot determine what makes some people unwilling to move forward and to enjoy the next stage of their lives. I have had clients who years later still live in a fantasy of lavish dinner parties and formal galas that they have either aged out of, are no longer invited to or (in some cases) can no longer afford. When they move, some of these same people will fill one or more storage rooms with things that they will never use again.
For others, lifestyle is a fluid thing. They still have their financial resources and can rent a summer home for the season or stay at a hotel and do not need to maintain the same degree of owning and doing.
(KCA): Do family members typically agree on what to keep?
(SB): Not always. Some adult children do not want what they have left in their parents' homes but they want to know that their old wedding gown is actually someplace. My best way of handling this is to tell them that their stuff will be sent to them, disposed of, or sent to a storage facility of their choice. I suggest that they put the box in their garage, attic or closet and if they have not opened it within 6 or so months, that they are now ready to get rid of it themselves. I did this with my own daughter who told me that it was my job to keep her stuff.
If you are talking about my moving a couple or a family, the answer again is "Not always." I had a client whose husband was very sentimental and they were downsizing into a very modern, sleek home. He wanted to take things that were sentimental to him. She understood that it was important for their marriage and her husband's peace of mind to take things she would happily have left behind. So I do encourage compromise. Sometimes the disputed items are eliminated at the final destination because they really do not work in the space, and sometimes not. But family comes first and it does not pay to fight over something so small in the grand scheme of things.
(KCA): What percentage of a household is typically left behind or given away during a move?
(SB): There is no standard percentage. Frequently, my clients who are downsizing send things to more than one destination: a son, a daughter, a grandchild, or the summer home in the Hamptons because the new apartment in the city is not big enough. Sometimes I sell really fine furnishings. Most of the time I need to arrange to have the remnants of carpeting, extra bathroom tile, partial rolls of wall paper, and dried out cans of paint that were kept "just in case" thrown out.
(KCA): Is the family thinking motivated by financial choices?
(SB): For most of my clients, no. However, I have moved people who were looking to cut down their overhead. One widow in a 16,000 SF house where the monthly costs were excessively high moved to an 8,000 SF home. A client who did not manage her money well needed to sell a huge apartment on Central Park West. Her profits from the sale exceeded $8,000,000. Generally, the motivation is to make life easier, less complicated, eliminate stairs, and to be closer to family.
(KCA): What are your top tips for people moving homes?
(SB): Start preparing early – I have an 11 page proprietary "To Do List" that I give to clients when I first meet them. The longer it has been since you last moved, the more difficult and complicated it is.
Know exactly where you are going and complete renovations or slight changes prior to moving. For example: prewire for TV's and electronics. Make alterations to closets to accommodate what you have and how you arrange your clothing. Send your area rugs out to be cleaned and delivered to your new home a day or so before you move in.Have your new home cleaned from ceiling to floor after whatever work is done or before you move in. Remember that you will not be unpacked in a day so have the basics in place before you move in. Think of things such as toilet paper, hand soap and paper plates. Hand carry a suitcase or two with clothing you will need, medications you take, all important papers that cannot easily be replaced, a check book, your jewelry (which should not be packed), and anything that you will want to use immediately.
Mark in large letters "OPEN ME FIRST" boxes that contain your bed linen, your coffee maker, and the dog food.
(KCA): What's the most egregious error you encounter?
(SB): People who wait until their house is under contract and the closing date is a few weeks away. Unless you are moving under duress and need to get out quickly, it really takes 2-3 months to prepare for a move.
(KCA): Thank you, Sharon.